Harvest festival Service
Despite the terrible weather on the 1st October we had a wonderful time celebrating God's goodness to us. The Harvest tea was as usual a vast selection of homemade goodies. The Chapel was beautifully decorated with all kinds of fruit, vegetables and flowers. The singing 'raised the roof' as we sang 9 popular harvest hymns. Pat Reigh led the Service and told us a little bit about each writer of the hymn before we sang it. This was both very interesting and allowed us to get our breath back! Pat also told us how he 'came to faith' when he was 12 years old and how he has been preaching at the Chapel since 1975. We sincerely hope he will be preaching for us for many, many more years to come. The offering was a very generous one amounting to £274 and this has been given to Water Aid.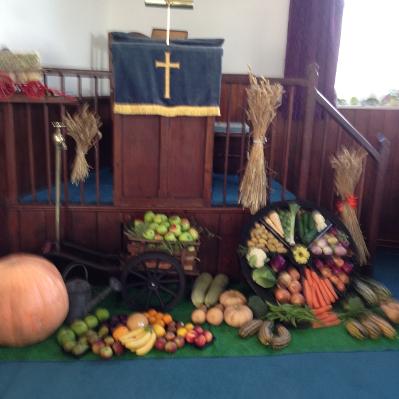 Our 2017 Plough Sunday Service

Our Plough Sunday was both very well attended and enjoyed by Children of all ages (!), finishing off with a a simple but hearty lunch of soup, hotdogs, cakes and coffee.
The offering at the service of £317.20 is being send to the RABI, the Royal Agricultural Benevolent Institution, which is a welfare charity that supports farming people of all ages if they are in financial difficulty and of limited means.
We were more than pleased at the numbers of local farmers that attended the service and we pray that farmers both in our area and beyond will be especially blessed this year.
We thank Mr & Mrs. Monty Worsham for a
gain being so generous in
letting us have their barn in which to hold the Service.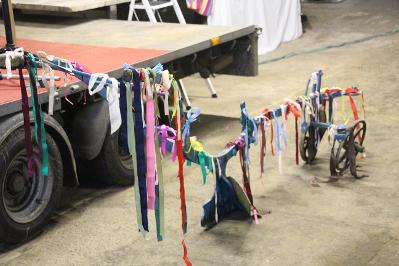 Our decorated traditional horse-drawn plough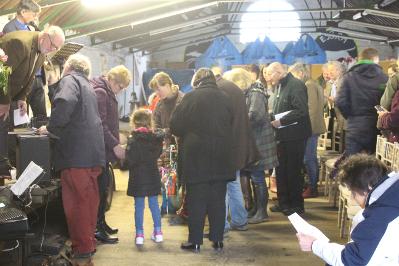 A few members of the congregation that attended the service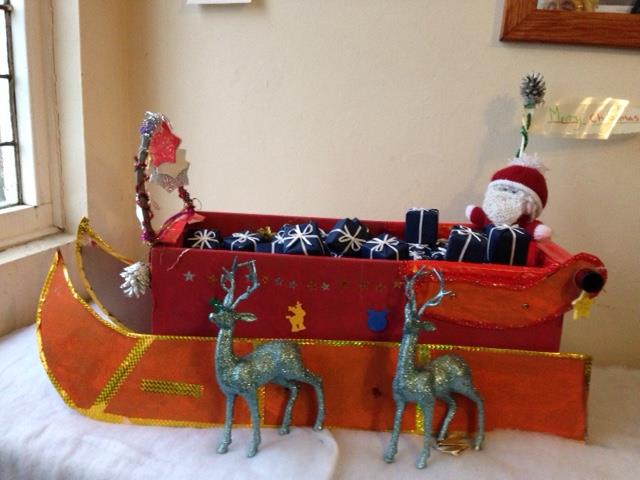 The After School Club made this sleigh. They are only 5 - 11 years old so we think that they did amazingly well!
The Chapel was beautifully decorated with a tree, Yew, Ivy, bells, a Manger, and advent candles. The Carol Service was very well attended with friends old and new. The minister commented on the good singing which was led by the Soveriegn Band. Everybody said how much they had enjoyed the Service and we all stood around chatting, eating mince pies and drinking tea. It was such a joy to see so many people from the village joining us and as Revd. Roy said if we hadn't sang their favourite Carol we are sure to sing it in the coming weeks so be sure to come again!
The offering of £272 was given to The Chestnut Tree Children's Hospice
Fay reports on the Chapels Latest Healing Service
Our Healing Service on the 29th July was led by Dr. Mike Von and his team. Dr. Mike spent some time going through the scriptures and pointing out to us Jesus's teachings on Healing. In particular the meaning of Luke 17 v 6 where Jesus spoke of the mustard seed. Dr. Mike told us that any of us who truly believe in the resurrection of The Lord Jesus Christ can pray for healing for their colleagues and Our Lord will answer our prayers. When Jesus died on the cross he died so that our sins would be forgiven and our bodies would be healed when we pray for healing.
Dr. Mike told us about a lady who came to his surgery with a major gynaecology problem which meant that her pregnancy couldn't go full term, she asked Mike to pray for her, which he did and her problem was cured and she carried then baby full term and it was delivered fit and healthy!
Many went up for Healing Prayer at the end of the Service. One gentleman that received healing at our last Healing Service brought his daughter along and we prayed for her.
Our 2018 Anniversary Tea
Sunday 3rd June this year was a glorious day and we were able to sit inside or out as the mood took us!
As usual we had a wonderful time together catching up with people that we hadn't seen for some time and of course enjoying all the lovely homemade food that had been provided.
Pat Reigh led our service and even he (leads choirs) had to admit that our singing 'did us proud'.
We are certain that Our Lord looked down on us with much pleasure as we celebrated 54 years at Ponts Green and approximately 138 in existence, having been at the farthest end of the village worshipping in a barn when the chapel was started.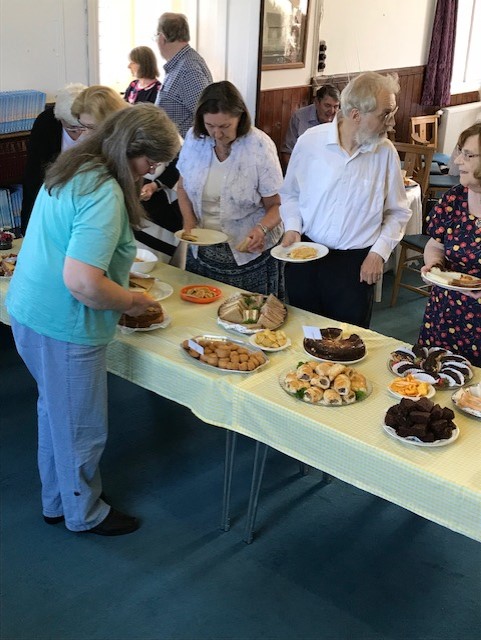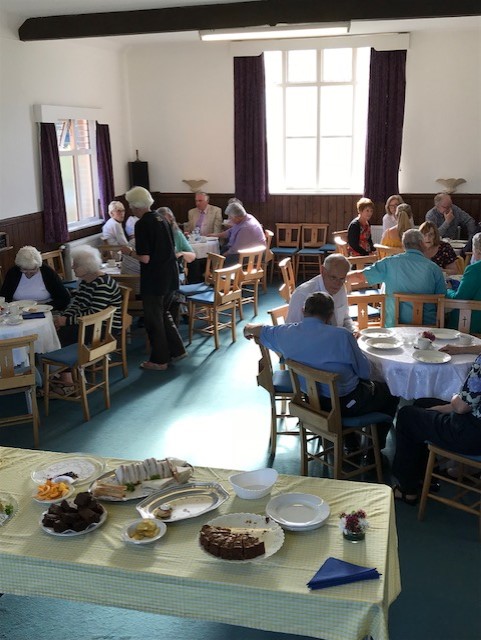 Fay Reports on the Chapel's Latest Healing Services
Rev Colin Gibbs led our April Healing Service
As is usual this was very well attended with only about 3 empty seats.
Colin told us about some marvellous Healings that he has either
seen or experienced and after the Service many people came up
for Prayer. One lady in particular has been suffering constantly from
back pain as a result of an injury 26 years ago and during the Prayer
Ministry she felt the pain leave her. We have since checked with
her and she tells us that the pain has not returned. How wonderful
is Our Lord!
The Healing Service led by Jan Ransome
She told us how as many as 4,000 people would fill the marquees to hear the Good News and many came forward to ask Jesus into their lives.
During the Healing Ministry that followed the Service Our Lord answered many of the prayers and 3 people in particular received life changing healing. Unfortunately owing to the nature of the healing I have been asked not to say more at this stage. However, it is enough to know that Jesus loves us all and answers our prayers.
The Healing Service led by David Smith
The Healing Service led by David Smith
and his team was very well supported with only 2 empty seats in the chapel. The Holy Spirit was very evident and the atmosphere was electric. David told us all about a new initiative they are running at Shinewater Community Centre (now known as The Well Community Centre) where they meet for prayer for an hour or so and ask Our Lord to show them where He wants them to go and who He wants them to speak to. They call this "Treasure Hunting". David told us how they write down the "clues" Our Lord gives them and then go out into the community to find them. For instance David was given "Green Shoes", "a park bench" and a "pond". So, a group of them set off to find something that fitted these things. After some searching they came upon a women wearing bright green shoes, sitting on a seat by a pond so they went up to her and told her that they thought God wanted them to pray for her. This they did and the lady appeared at the next Sundays Church Service where she told them that she was very grateful for their prayers and that she felt much more at peace with her problems. David told us of lots of other instances where God sent them out to find and pray for people. It was all so exciting.
We also had a gentleman stand up after the Service and tell us that a few years previously he had received healing for Prostate Cancer and because the healing was so successful and baffled his doctors he was there tonight to receive prayer for Parkinsons Disease and he was totally convinced that he would be healed again.
Another lady came up for prayer because she had a lot of pain in both her arms. She was prayed for and before the evening was over she came up and told us that all her pain had gone!
The Chapel Carol Service
Our Carol Service this year was led by Revd. Roy Cole and the music was provided by the Catsfield Hand Bell Ringers.
As usual the Chapel was virtually full and everybody enjoyed singing Carols to the hand bells. The offering amounted to £452 which has been sent to The Snowflake Trust which gives shelter to the homeless on the cold winter evenings from November through to March. Mince pies and a great time of fellowship was enjoyed after the Service.
Ashburnham WI had a Christmas Tree Festival on the 2nd December again for Snowflake and they raised over £900, added together these two amounts will be a great help to Snowflake. Our thanks go out to all who helped raise this amazing amount.
Following a recent Chapel meeting it was decided that we will continue holding Healing Services and our next will be on the 29th April. Please put the date in your dairies.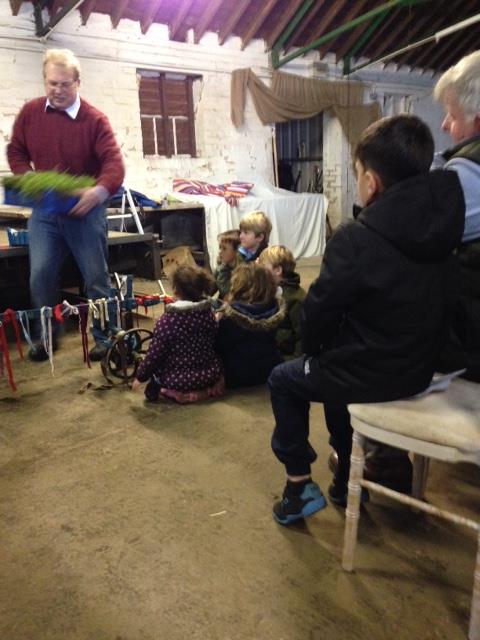 Some of the children are learning how a plough works