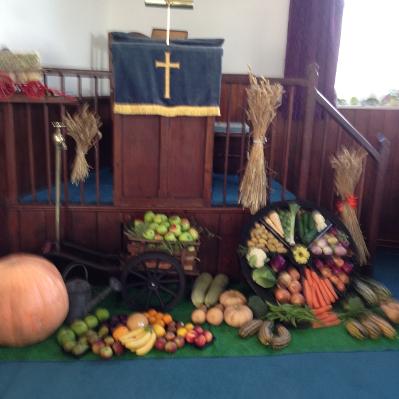 Our 2017 Plough Sunday Service

Our Plough Sunday was both very well attended and enjoyed by Children of all ages (!), finishing off with a a simple but hearty lunch of soup, hotdogs, cakes and coffee.
The offering at the service of £317.20 is being send to the RABI, the Royal Agricultural Benevolent Institution, which is a welfare charity that supports farming people of all ages if they are in financial difficulty and of limited means.
We were more than pleased at the numbers of local farmers that attended the service and we pray that farmers both in our area and beyond will be especially blessed this year.
We thank Mr & Mrs. Monty Worsham for a
gain being so generous in
letting us have their barn in which to hold the Service.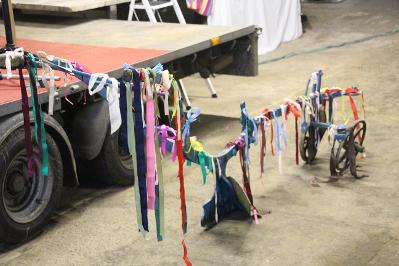 Our decorated traditional horse-drawn plough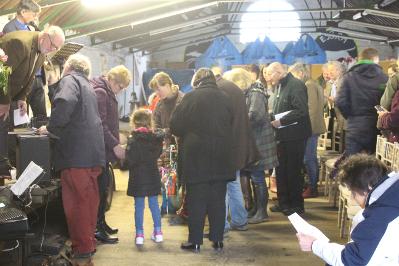 A few members of the congregation that attended the service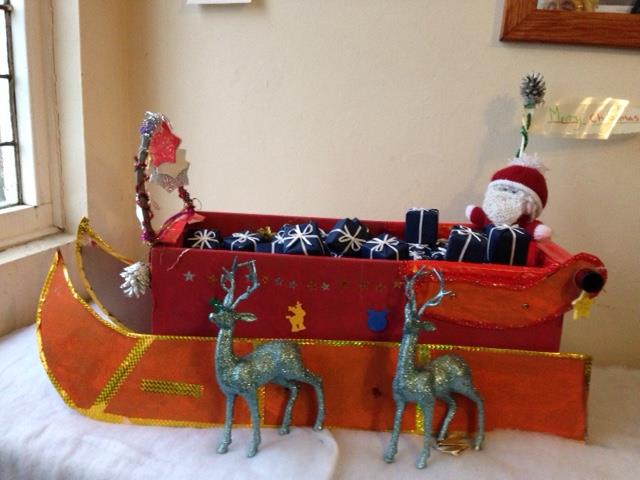 The After School Club made this sleigh. They are only 5 - 11 years old so we think that they did amazingly well!
The Chapel was beautifully decorated with a tree, Yew, Ivy, bells, a Manger, and advent candles. The Carol Service was very well attended with friends old and new. The minister commented on the good singing which was led by the Soveriegn Band. Everybody said how much they had enjoyed the Service and we all stood around chatting, eating mince pies and drinking tea. It was such a joy to see so many people from the village joining us and as Revd. Roy said if we hadn't sang their favourite Carol we are sure to sing it in the coming weeks so be sure to come again!
The offering of £272 was given to The Chestnut Tree Children's Hospice
Harvest Festival
Our Harvest Festival Service was held on the 7th October and was a glorious day to remind us how much Our Lord cares for us. The Chapel was as usual beautifully decorated but I am sad to say so many people arrived for tea at the same time and we were so busy welcoming them that nobody remembered to take any photos! We did however take some the following day but I am afraid we had given all the fruit and vegetables and a lot of the flower arrangements to people who came to the Service. However, the Horse and Cart (below) was a work of art, the cart was made entirely of cardboard and the people and sacks of corn were knitted. It must have taken Christine hours to create.
We were all amused by the antics of a mouse who decided to have his own Harvest Tea (not at the same time as us) and when we looked at our sheaves of corn all we had left was stalks and empty "ears". This little mouse will sleep all the winter with a very full tummy!
Our offering amounted to £308 and this has been sent to Water-Aid who have told us that it is being used to give a stand pipe of fresh water to the people living in a place called Tombohuaun.
Fay reports on the Chapels Latest Healing Service
Our Healing Service on 21st October was led by Revd. Peter Walker who shared several Healings that he has personally witnessed. One of which happened to him. He had had a bad fall and his whole arm was black and blue, this was just before he took up a new post in Spain. So he and his wife Diana prayed for healing and right before their eyes all the bruising just disappeared! It was lovely to welcome 6 people that have never been to a Healing Service before, 3 of whom received Prayer Ministry. The presence of The Holy Spirit was very evident throughout. I had several e mails the following day from people telling me how much they had enjoyed the Service.

Wonderful things have been happening since our last Healing Service!
I received a written testimony from Paul Lewis which reads.......
"Following our Healing Service on the 21st October 2018 as usual we offered Prayer Ministry - towards the end of this Ministry one of the Prayer Partners came up to me and said he felt he should pray for me, which he did. How the Holy Spirit of the Lord leads as I had been suffering from depression for many months. By Saturday the 27th October that depression had gone! I am so thankful for the Lord's healing from this depression. Our God is Great, Our God is Good, praise His Holy Name. Jesus is Lord!"
I have also been told that there was a man who came up for Prayer Ministry who was suffering from
a shoulder/neck problem which was so bad that he couldn't drive. Within days of the Prayer Ministry he was completely cured and driving again.
Another lady received prayer and
where she was full of anxiety and worried about the future, she felt a complete calm after the prayers and has told us since that she is now completely at peace about her future and all anxiety and worries have left her.
Our 2018 Anniversary Tea
Sunday 3rd June this year was a glorious day and we were able to sit inside or out as the mood took us!
As usual we had a wonderful time together catching up with people that we hadn't seen for some time and of course enjoying all the lovely homemade food that had been provided.
Pat Reigh led our service and even he (leads choirs) had to admit that our singing 'did us proud'.
We are certain that Our Lord looked down on us with much pleasure as we celebrated 54 years at Ponts Green and approximately 138 in existence, having been at the farthest end of the village worshipping in a barn when the chapel was started.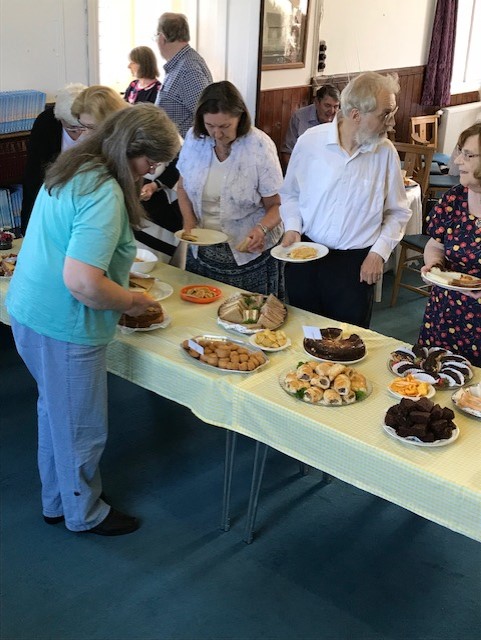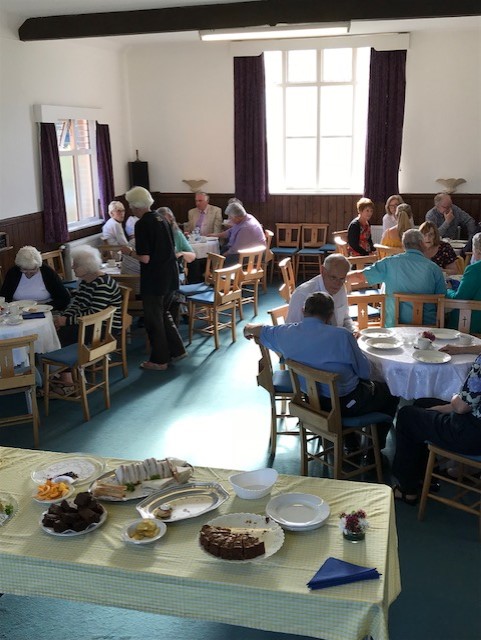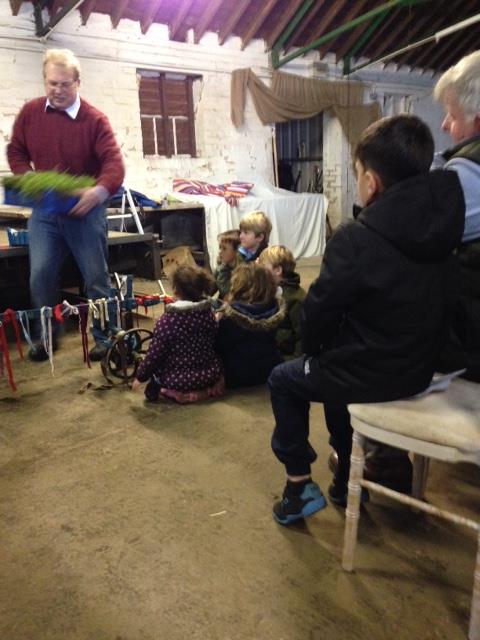 Some of the children are learning how a plough works