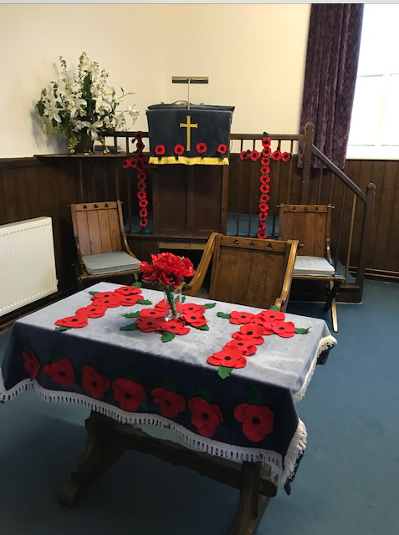 For our Remembrance Sunday Service, members of the chapel made poppies out of felt, or crocheted them.
Our 2019 Carol Service
As usual the chapel was full which was wonderful to see especially as at least 12 people that normally come couldn't make it this year.
The offering raised £383 which has been sent to Out of the Blue a local charity that raise funds for these three charities: Dragonflies, Beachy Head Chaplaincy and Winstons Wish.
For larger images of our Carol Service, please click on the below images.
Our Harvest Tea
We had a wonderful time together sharing tea and singing all the favourite harvest hymns. Our collection amounted to £293 which we have sent to Water Aid
We had an abundance of fruit and vegetables and after members of the congregation had taken some we took the rest down to St Peter's for their Harvest Service the following week. They asked for food for the Food Banks at Bexhill and Battle instead of fruit and veg. Which was great. Some of the wheat went to help decorate Bexhill URC as well.
God is so faithful, just as He promised He always gives us seed time and harvest, sunshine and rain. If only we humans would love one another and stop all the bickering and fighting there would be plenty to feed the whole world!
For large images of our Harvest Festival offerings, please click on the images below.